Inverness Virtual Music Festival 
took place 18th February 2021- 28th February 2021
All participants should have received access to their class, and a written adjudication and certificate. Please contact us by email if not.
Click here for a link to our Video Page where you can see the  Vocal and Classical Music Highlights.
Click here to see all our trad highlights plus composition and groups. There is plenty to watch!
 Click here to see our Winners Booklet.
Premier Competition Announcement!
Our premier competitions will be held on Saturday 13th March at 2pm. Our special guest judges will be Norman Bolton and Jenny Wychrij. 
Click here for our programme available NOW
                                                Entrants are as follows
                               Curtis Craig Competition (Classical)
Carol Paterson … Woodwind….Ruaraidh Williams …Cello…Ian Roy…Piano… Edward Clark …Cello…Jean Bradley…Vocal…Sasha Clement… Violin
                               Elizabeth Davis Competition (Scottish Traditional)
Rebecca West…Vocal…Ruaraidh Drennan…Fiddle…Isy Maclean…Clarsach…
Anndra Cumming…Accordion.
Everyone is welcome to enjoy the event via free ticket on eventbrite. Please use the link here to book your ticket.
We had a great time with our Dancing Workshops during the festival – Step Dance with Sophie Stephenson, and Highland Dance with Claire Bryce. Find out more about Scottish Country Dancing below.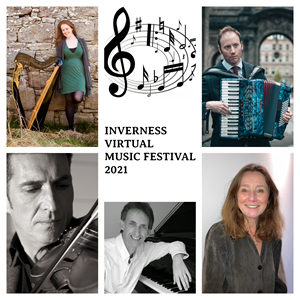 Big thank you to our Adjudicators: Alan Maclean (Piano), Alan Fernie (Brass and Woodwind) Fiona Maclean Buechel (Strings) Charlie McKerron (Fiddle) Isbel Pendlebury (Clarsach) Les Hutt (Piping) John Somerville (Accordion and Group Work)  Gail Troilus (Vocal) Shirley McGill (Speech) Joy Dunlop (Gaelic)
THANK YOU ALL FOR BEING WITH US ON OUR VIRTUAL FESTIVAL JOURNEY
Thank you to the Inverness Common Good Fund and Cairn Housing Association for their support. Also the many private individuals who have helped. We are very grateful to you all.
Have you thought about giving us a small donation?. Spare a thought for the festival- we have no tickets to sell, no raffle, no programme sales etc. We are 100% run by volunteers. If we want to survive to our centenary we need your support. Don't be shy to give us small amounts – if you would have spent £2 on a coffee at one of our events, or £3.00 on parking, please consider using our easy Donate button (Top left) to add to our fund. Every little really does help.
Did you see our wonderful primary poetry entries? Take a look at a selection of them again in our Poetry Gallery here.  You can also still see the commended and winning entries from our primary art competition here.