Welcome to the Inverness Music Festival
Inverness Music Festival will be online in 2021!
There is something for everyone – and everyone is welcome!
Our syllabus is available – Take a look, and you can enter on the website now.
We even have ART, DESIGN AND PHOTOGRAPHY competitions for young people. See our syllabus for all the details.
Festival Dates: Trad Music/ Speech and Drama … 18th – 21st February
Piano/Classical/ Contemporary Vocal… 25th – 28th February,
(Provisional Presentation Day…. 6th March)
The closing date for registering your entries has been extended to Friday 11th December to give you a few more days to organise your submission. You will then have until 3rd January to record and upload your entries.
The closing date for the Over 60s Talent show will be 16th December. Any other late entries will only be considered up to this date.
We are pleased to announce our 2021 adjudicators!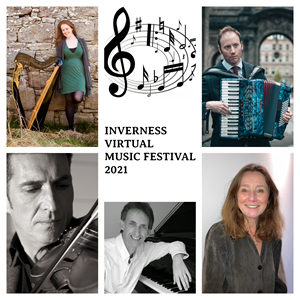 Alan Maclean (Piano), Fiona Mclean Buechel (Strings), Alan Fernie (Woodwind and Brass), John Somerville (Accordion) Isbel Pendlebury (Clarsach and Traditional Vocal), Les Hutt (Piping and Chanter) Charlie McKerron (Fiddle) Gail Troilus (Vocal) Shirley McGill (Speech and Drama) …. will be our specialist adjudicators in 2021.

How will it work?
If you have never made a video of yourself before and have questions, don't worry, we will try to help. Email invernessmusicfestival@gmail.com
Or Click Here  for some tips.
Also watch the video from our strings adjudicator Fiona McLean Buechel. Videos will be reviewed by the adjudicators and class playlists will be released to entrants during the festival weekends. During the festival watch out for winners lists daily and highlights on our website.
We hope to hold a presentation concert and our premier competition live if we can. Watch out for further information in January and February, in line with government guidance.
STOP PRESS….
The Festival Association AGM will be held on 9/12/2020 at 7.30pm on zoom. Please send us an email if you would like to attend. Everyone is welcome.
HELP KEEP THE FESTIVAL AFLOAT
We are indebted to those who made donations to our fundraising campaign. We still need sponsors, prizes, and help from volunteers. Contact invernessmusicfestival@gmail.com if you can help.
 See below for the 2020 winners… Be inspired!

Please Support  2021. Get involved  —  PERFORM, WATCH, VOLUNTEER, FUNDRAISE, ENJOY.
Please visit our Volunteers section to help.